With a range of poses and expressions – from a victorious celebration to a playfully rueful pose and more – each Superfan comes to life in a unique way. Their characters are designed to evolve throughout the tournament, as fans' excitement grows.
As the official social media and augmented reality/ virtual reality supplier of the Rugby World Cup France 2023, we're excited to share all the fun and innovative ways rugby fans across the world can immerse themselves in the heart of the action using our apps. 
Meet the Superfans and Share your Passion for the Game
Each playful character has been designed with characteristics inspired by each participating nation and is on a mission to bring fans together to revel in the moment and celebrate the games. The Australian kangaroo, Irish shamrock, New Zealand fern and English rose are just some of the recognisable symbols that inspired these characters.
We're launching new augmented reality filters featuring the Superfans, to give a playful and gamified experience to fans. Soon, everyone will be able to take a selfie with a range of characters to choose from using the front camera of their smartphone, and play to get them to catch a rugby pass using the back camera. These fun filters will evolve throughout the tournament stages. Animated GIF stickers will also be available through GIPHY, allowing people to express their passion in new ways on our apps.
Visit the Paris Rugby Village: The Epicenter of Fandom
Each wall in our booth will give people the opportunity to have a selfie moment with the Superfans, enjoy animated Superfan content and an interactive game where they are rewarded for their passion for their teams. A Reels Booth will also offer fans the chance to interact directly with the Superfans and create captivating Reels to share on Instagram and Facebook to commemorate the tournament. 

Join the Superfans!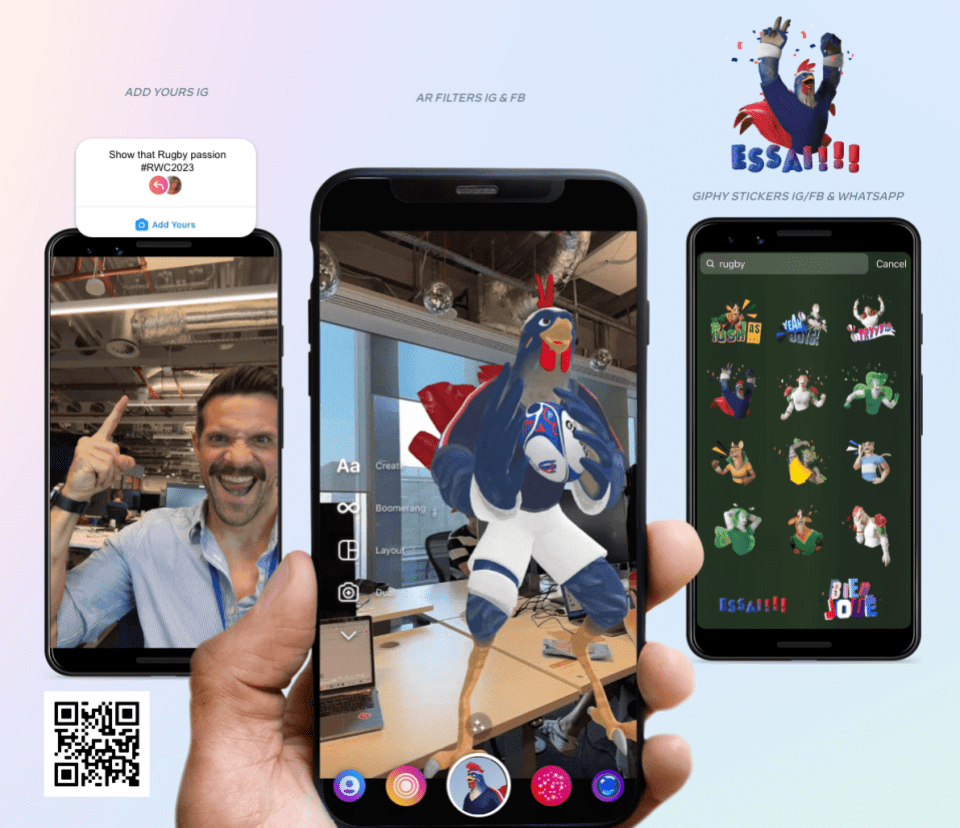 AR Filters and Stickers: Bringing the Superfans to Life
As the tournament kicks off, the Superfans will be unmissable and ready for action. Fans can look out for their favorite character's advertures on Facebook and Instagram, before and during breaks in between matches on TV, at prime outdoor locations in Paris and Marseille and on content creators' social media accounts.